The Free Press, Held Hostage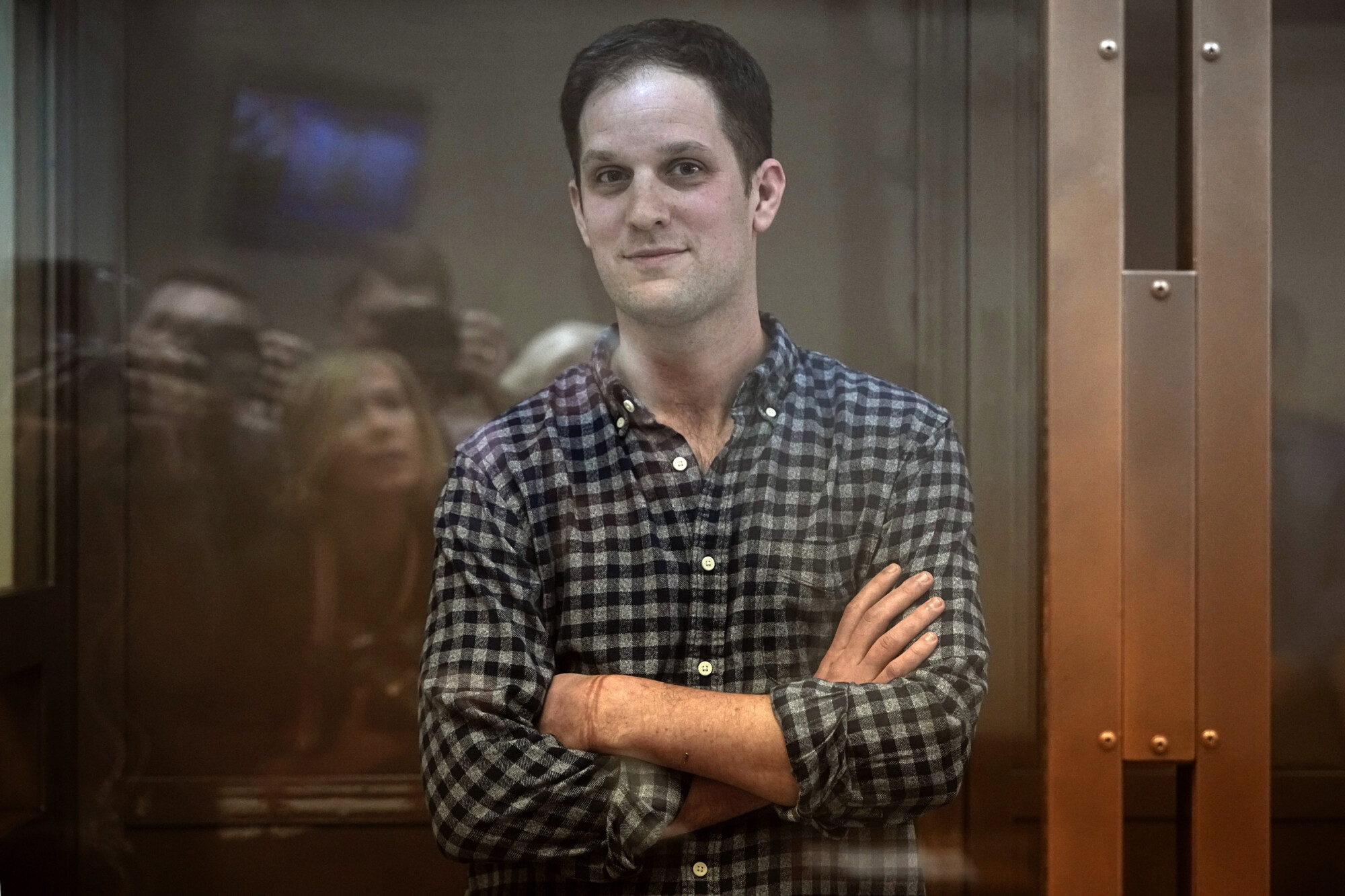 May 1, 2023 — Recently, media organizations have laid off thousands of journalists, and in March, Wall Street Journal reporter Evan Gershkovich was detained by Russia's federal security services under suspicion of espionage. It's clear that international journalism is under threat.
Gulnoza Said, the Europe and Central Asia program coordinator for the Committee to Protect Journalists, joins Ray Suarez to discuss why the safety of journalists matters to the health of a free press.
Related Episodes
The Kremlin's Kim-ouflage

Andrei Lankov, Director at NK News, joins Ray Suarez to explain why Kim Jong Un is solidifying relations with Russia… and not China.

Two Dictators Walk Into a Bar: What We Learned From the Putin-Kim Summit

Ray Suarez speaks with New York Times' national security reporter Julian Barnes about Russia's alleged arms deal with North Korea, and what it means for the war in Ukraine.

Why Detroit's Auto Workers Are On Strike

In this special rerun episode, Mark Phelan, auto writer and columnist for the Detroit Free Press, joins Ray Suarez to break down why electric vehicles and wages are a red line for autoworkers.

Regulating Big Tech: Is TikTok Still on the Clock?

Ray Suarez speaks with Gerard de Graaf about strengthening US-EU cooperation on digital affairs. Then, Caitlin Chin returns with an update on the latest digital drama between Washington & Beijing... and the pending...

Molière Out, Mercenaries In: Powers and Politics in Françafrique

Ray Suarez sits down with security analyst Fola Aina and journalist Nabila Ramdani to discuss the coup in Niger – and across former French colonies in the Sahel region.

Blood and Butter: Why Russia's Economy is Falling Faster Than Prigozhin's Plane

Ray Suarez speaks with Catherine Belton, The Washington Post's Russia reporter, about the mercenary organization's future and the price Russians — ordinary and oligarch — are paying for Putin's power plays.

Putin's Prigozhin Trap, with Anne Applebaum

Historian Anne Applebaum argues that Putin needed a spectacular act of violence after Prigozhin's challenge to his power. She and Ray discuss what this means for a fragile Russia.

China's Dream of Global Dominance

Aug. 28 — The aftermath of the Chinese surveillance balloon saga reveals a growing diplomatic divide between the US and China. Where does this mistrust come from? Authors Orville Schell and John Delury join host Ray...

QAnon's German Blitz

Ray Suarez and journalist Julia Ebner explore how once-fringe movements like QAnon are popping up in European political circles.

Trump-ing Tradition: American Democracy at the Crossroads

Ray Suarez and New York Times columnist Tom Edsall explore whether we've passed a point of no return in American politics.

Asia's EV Surge: Coming To An Outlet Near You

International auto journalist Hans Greimel joins Ray Suarez to break down how Asian countries are tackling the EV transition, and what the future of electric vehicles looks like.

Why Detroit's Auto Workers Are Pumping the Breaks on EVs

Mark Phelan, auto writer and columnist for the Detroit Free Press, joins Ray Suarez to break down why the threat of EVs is a red line for autoworkers.

Scott Galloway: Dislike by Design, How Big Tech Drives 'American Enragement'

Ray Suarez sits down with NYU professor Dr. Scott Galloway to explore how Silicon Valley's profit-chasing – and unchecked influence – is destroying American society… and our kids.

Blue-Check Blues and Trauma X-Posure: Coping with Viral Violence

UC Berkeley researchers Alexa Koenig and Andrea Lampros join Ray Suarez to break down how everyday exposure to trauma is affecting social media users worldwide.

General Petraeus' Guide to Diplomacy… and Deterrence with China

General David Petraeus offers insights on how small nations can contend with formidable superpowers, and how President Volodymyr Zelenskyy scored the role of a lifetime.

Is The Middle East Swiping Left on America?

Ray Suarez sits down with Mara Rudman from the Center of American Progress to dissect the delicate state of play in the Middle East.

Tricks of the Trade: Kiwi Exports and Malaysia's Balancing Act

Malaysian Deputy Minister Liew Chin Tong tells Ray Suarez how spaces like APEC are key to balancing relationships with competing superpowers. Then, Deputy Secretary Vangelis Vitalis shares how the demand for traditional...

Ambassador Katherine Tai: Buy Local, Trade Global? (Even With China…)

US Trade Representative Katherine Tai tells Ray Suarez about APEC's vision for the future of global commerce, and what a 'worker-centered' US trade policy looks like.

Fact-Checking a Crisis: Scientists vs. Science Deniers

Researcher Christopher Reddy joins Ray Suarez to discuss his new book, "Science Communication in a Crisis," and why scientists may be part of the problem in science denialism.

How to Talk To Your Child About the End of the World

David Gessner and his daughter, Hadley, join Ray Suarez to discuss his new book, "A Traveler's Guide to the End of the World," and to share what it's like talking about the climate crisis with your kid.

Falling (Communist) Blocs and the Rise of Tetris

Screenwriter Noah Pink tells Ray Suarez how he discovered the true story behind "Tetris," from the Cold War race to secure the rights to the classic video game to its escape from the former Soviet Union.

A Twitter Coup? Pics or Yevgeny Prigozhin's Mutiny Didn't Happen

Ray Suarez speaks with Jen Kirby, Vox's Foreign and National Security Reporter, about fact verification and conflict reporting amidst state propaganda and viral Twitter memes.

Yemen's Long Road to Peace: What a Saudi-Iran Deal Means

Ray Suarez speaks with Arwa Mokdad, Peace Advocate with the Yemen Relief and Reconstruction Foundation, about what a deal between Saudi Arabia and Iran could mean for the future of Yemen.

Money Talks, Kingdom Walks: Global Finance and Saudi Politics

Eric Pelofsky, Deputy Chief of Staff and Vice President of the Rockefeller Foundation, joined Ray Suarez days before the Summit for a New Global Financing Pact in Paris to share how international financial institutions...

PlateGate: The Conspiracies About What We Eat

Laicie Heeley, Executive Producer and Host of "Things That Go Boom," joins Ray Suarez to break down how cracks in our food system have paved the way for international conspiracy theories about the ongoing food...

French Identity and the Battle for the Baguette

Ray Suarez speaks with French legal scholar Rim-Sarah Alouane about the "great replacement theory", and what it takes to be considered "French first."

Is Kosovo on the Verge of Renewed Conflict?

Anatol Lieven, journalist and Eurasian Program Director at the Quincy Institute for Responsible Statecraft, joins Ray Suarez to explain why ethnic tensions are once again flaring up in the Balkans.

How Erdoğan Plans to "Make Turkey Great Again"

Ray Suarez speaks with Merve Tahiroğlu, Turkey Program Director at the Project on Middle East Democracy about Erdoğan's imperial ambitions.

Georgia's Dilemma: Wait on the West, or Succumb to Putin?

Reporter Levi Bridges takes us on the ground to the former Soviet state of Georgia where we hear about the dangers of standing up to Russia.

Marie Yovanovitch: The Ambassador Who Testified Against Trump

Ray Suarez spoke with retired Ambassador Marie Yovanovitch about a lifetime of public service, and why she remains optimistic about Ukraine's fight for freedom.

CityNerd Debunks the "15-Minute City" Conspiracy

The 15-Minute City has the potential to address many challenges of city living— but it hasn't been without its critics. CityNerd creator Ray Delahanty joins Ray Suarez to debunk anti-urbanism conspiracies.

Secretary Pete Buttigieg: Leading the EV Charge at APEC

Ray Suarez speaks with US Secretary Pete Buttigieg about repowering America.

When Your Country Doesn't Trust You

In this episode, we revisit the story of Wen Ho Lee, a Taiwanese-American scientist who was falsely accused of spying for the Chinese government.

Two Asian Americans on How an Election Changed Their Lives

World Affairs President & CEO Philip Yun and California Assemblymember Alex Lee share how an election changed their lives.

Why We Need a New Immigration Narrative

Ray Suarez speaks with Aarthi Shahani, author of the memoir "Here We Are: American Dreams, American Nightmares," about her family's painful path to citizenship and how America's broken immigration system is used as a...

Reformer to Enforcer? Biden's Immigration Policy

Sabrina Rodriguez, national politics reporter at The Washington Post, joins Ray Suarez to explore America's broken immigration system.

The Masculinity Crisis: What's a Man to Do?

Ray Suarez speaks with Idrees Kahloon, DC bureau chief at The Economist, about how men have been pushed to the sidelines.

Is It a Man's World?

Angela Saini, author of "The Patriarchs: How Men Came To Rule," joins Ray Suarez to break down what the "patriarchy" is, and how it operates.

Nigeria's Fight to Protect Democracy from Fake News

Ray Suarez speaks with BBC journalist Fauziyya Tukur about her work debunking disinformation in Africa's largest democracy.

Tom Nichols on the Dangerous Politics of Narcissism

Tom Nichols, staff writer at The Atlantic, joins Ray Suarez to break down what Trump's historic indictment — and the fight for the truth in the US – means for the coming 2024 elections.

What's Newsworthy? A Behind the Scenes Look at Global Dispatches

Ray Suarez sits down with Mark Goldberg, host of "Global Dispatches," to explore how international journalism can remain vital.

Why is America So Afraid of China?

Ray Suarez sits down with Nancy Qian, James J. O'Connor Professor of Managerial Economics & Decision Sciences at Kellogg MEDS, Northwestern University, to discuss the China-rooted land panic.

Why China and the US are Saber-Rattling Over Taiwan

On this episode, Ray Suarez speaks with Dr. Joel Wuthnow about China's potential invasion of the island it claims as its sovereign territory.

Saudi Arabia's Thirst for Arizona's Water

Ray Suarez speaks with Dr. Natailie Koch, author of "Arid Empire: The Entangled Fates of Arizona and Arabia," about mining water, from Arizona to Arabia.

Saudi Arabia Turns Off the Tap: Will Gas Prices Spike?

On this episode, Ray Suarez sits down with Jim Krane, author of "Energy Kingdoms: Oil and Political Survival in the Persian Gulf," to discuss OPEC's surprise oil cuts, and what that means for your wallet.

An American Inside North Korea's Nuclear Program

SPECIAL RELEASE: Global Santa Fe chair Jim Falk spoke with Siegfried Hecker, author of "Hinge Points: An Inside Look at North Korea's Nuclear Program," to discuss our missed opportunity to stop a nuclear North Korea.

Kim's Threats of Nuclear War, A View from Seoul

South Korean journalist Jeongmin Kim sits down with Ray Suarez to share what it's like living a mere 15 miles from a threatening, nuclear-armed neighbor.

War Games: The High Stakes of North Korea's Nuclear Armament

In this episode, Siegfried Hecker talks about missed opportunities to denuclearize North Korea. Then, Ray Suarez explores the escalating tensions on the Korean Peninsula with Dr. Victor Cha.

State Department's Matt Murray on Trade with Asia, and US-China Relations

In this episode, Ray Suarez talks with Ambassador Matt Murray, senior US official for APEC, about whether the US and China can find common ground in trade on the Asian continent.

TikTok On the Clock: Inside the Efforts To Ban the Video App

Ray Suarez sits down with Caitlin Chin, a fellow at the Center for Strategic and International Studies, to discuss Congress' efforts to ban the Chinese-owned video app, TikTok.

Why Russia Is Stealing Ukraine's Future

In today's episode, Ray talks with post-Soviet expert Nicholas Eberstadt to understand why Russia's historic population collapse is fueling Putin's brinkmanship in Ukraine.

The ICC Issues A Warrant for Putin… What Happens Next?

Beth Van Schaack, ambassador-at-large for Global Criminal Justice at the DOS, tells Ray Suarez why it's so challenging to prosecute war criminals.

Sviatlana Tsikhanouskaya, Fighting Authoritarianism in Exile

In this episode, we revisit Ray's conversation with Belarusian opposition leader Sviatlana Tsikhanouskaya to understand how women might light a new path of leadership, and why there is still more work to do following the...

Can Microloans Lift Women Out of Poverty?

Bank run? How about banks run by women? Ray Suarez sits down with Mary Ellen Iskenderian, President & CEO of Women's World Banking and author of "There's Nothing Micro About A Billion Women: Making Finance Work For...

21 Economies Walk Into a Conference Room…

In this episode, Ray Suarez talks with APEC research head, Carlos Kuriyama, about how the global economy can bounce back from the pandemic.

The Children the Pandemic Left Behind (And How We Can Help Them Catch Up)

Ray Suarez is joined by the World Bank's Norbert Schady, Chief Economist for Human Development, and Mamta Murthi, Vice President for Human Development, to discuss COVID-19's hidden economic crisis.

What A Veteran Writer from the New Yorker Learned Covering the Ukraine War

Joshua Yaffa wasn't a war correspondent, but The New Yorker writer became one when Russia invaded Ukraine. In this episode, he joins Ray Suarez.

Ambassador McFaul: How the Ukrainians Can Break Through

In this episode, Ambassador Michael McFaul tells Ray Suarez why the global response to the current crisis will determine who wins or loses.

From Russia with Love: Escaped Russians Face History

In part two of our Ukraine anniversary special, journalist Levi Bridges tells the story of the Russian exodus, and the cultural reckoning that followed.

Bill Browder: Putin's Stalemate in Ukraine

In the first part of our Ukraine anniversary special, Bill Browder joins host Ray Suarez to answer what Putin might do next – and how long this war may last.

Why China Can't Forget the Century of Humiliation

Ray Suarez sits down with authors John Delury and Orville Schell to help us understand China's fight for global dominance.

Kerning Cultures Presents: Armenian Pilgrimages

A new generation of Armenian pilgrims are traveling to what is now eastern Turkey in the hopes of locating their ancestral homes. In this episode, the podcast Kerning Cultures brings us the story of Armenian-American...

The Siege of Stepanakert: A Post-Soviet Conflict in Ukraine's Shadow

The siege of Nagorno-Karabakh is now in its 64th day, leaving 120,000 ethnic Armenians cut off from food, fuel and medicine. In this episode, journalist Lara Setrakian and advisor to the state minister of Artsakh Artak...

Has the NRA Gone Global?

In this episode, Ray Suarez sits down with Bloomberg News reporter Neil Weinberg to explore how the National Rifle Association forged ties went global.

Storming Brasilia: Bolsonaro's Second Amendment Culture War

How did Brazil's love of guns lead to an attack on its Congress earlier this year? Ray Suarez speaks with Reuters reporter Gabriel Stargardter about Brazil's version of the January 6th Insurrection, and the Latin...

The Man Who Runs The World: Xi Jinping's China

What is Xi Jinping's plan to reset China, and how do we make sense of his enigmatic rule? Sue-Lin Wong, a reporter from The Economist, joined Ray for a live streamed discussion of the consolidation of power by the...

Learning From Past Fights With Inflation

As we slouch towards economic recovery, what can we learn from past fights with inflation? In this episode of "On Shifting Ground," Ray Suarez speaks with author and economist J. Bradford DeLong about who is most...

On Borrowed Time: How Tech Layoffs Threaten Silicon Valley's Immigrant Workers

Tech reporter Pranav Dixit has found that drastic tech worker cuts have left immigrant programmers and computer scientists wondering if it's worth staying in the U.S.

What ISIS Can Teach Us About Drone Warfare in Ukraine

In the age of remote warfare, how do we judge accountability when the rules of engagement remain murky? We revisit Ray's conversation with investigative reporter Azmat Khan and ethics professor Shannon French.

What Will a Republican Majority in the House Mean for US Foreign Policy?

In this episode, Ray Suarez and Council on Foreign Relations Senior Fellow Chris Tuttle discuss the impacts of the midterms on US foreign policy.

Why Congressman Andy Kim is Worried About War With China

In this episode, Rep. Andy Kim sits down with World Affairs CEO Philip Yun to discuss foreign policy in 2023 and the growing disconnect between Washington and the American people.

January 6th and the Global Far Right Revival

In this episode, authors Ruth Ben-Ghiat and Julia Ebner join Ray Suarez to discuss authoritarianism and misinformation to answer how we can prevent the next January 6.

An American Martyr in Persia, with Reza Aslan

In this episode of "On Shifting Ground," author and scholar Reza Aslan joins Ray Suarez to reveal an unlikely figure from Iranian history: an American missionary named Howard Baskerville who joined Iran's first fight for...

The Fight to Keep Native Kids on Tribal Lands

Ray Suarez is joined by Tammerlin Drummond, creator and host of the "Gold Chains" from the Northern California chapter of the ACLU. Then, Jenn Williams, host of Foreign Policy's show, "The Negotiators," talks...

Women, Life, and Iran's Struggle for Freedom

Speaking with reporters about the protests in Iran can mean jail or worse, but that hasn't stopped the Iranian people from trying to be heard. In this episode, Ray Suarez and Golnaz Esfandiari, Senior correspondent for...

A Family Flees Genocide: Lisa Phu on Her Mom's Story in "Before Me"

In this special episode, we share "Before Me", a five-part podcast series following one woman's life—from Cambodia to America—over the course of decades. The story was created, written, and produced by Lisa Phu,...

The New Nuremberg? Cambodia's Genocide Tribunal

It's been half a century since the Khmer Rouge killed an estimated 2 million people. The genocide tribunal lasted 16 years, cost over $300 million dollars and only convicted three men. Was it worth it? In this episode,...

Spreading Abortion Lies on TikTok

What does the anti-#abortion agenda look like across social media? Who are they reaching? In this episode of "On Shifting Ground," Ray Suarez Reveal producer Alaa Mostafa and UC Berkeley Human Rights Center...

A Post-Roe World: Poland's Pro-Choice Fight

On this episode of "On Shifting Ground," Ray Suarez speaks with author and feminist Agnieszka Graff about Poland's war on abortion – and how a historic protest movement is fighting back.

Why the World Cup is So &#*$&%! Expensive

Qatar smashed records by spending over $200 billion dollars to host the 2022 World Cup. What does this signal about the tournament's future? On this episode, the Athletic UK editor-in-chief Alex Kay-Jelski and American...

How Technology Fights – and Fuels – Misinformation

CEO of PeaceTech Lab, Sheldon Himelfarb, sits down with Ray to discuss what makes our present-day information crisis so unique – and dangerous. Then Alexa Koenig, Executive Director of UC Berkeley's Human Rights...

All Eyes on Sudan: Putin, Biden, and the Fight for Democracy

Ray Suarez brings us to the frontlines of Sudan's daily street protests, guided by activist and researcher Muzan Alneel. Then, guest host Hana Baba speaks with Declan Walsh, Chief Africa Correspondent for the New York...

Larry Brilliant on Stopping The Next Pandemic

Epidemiologist Larry Brilliant joins Ray Suarez to break down what the global pandemic response community got wrong (and right), the enduring geopolitics of vaccination and the urgent need to build a more...

Taiwan and the US-China Tug of War

This week, Ray takes a close look at Taiwan: its colonial past, vibrant democratic tradition, and what recent disputes over independence could mean for its people — and national security – today. We hear directly...

Welcome to "On Shifting Ground"

New name...same award-winning insights. "On Shifting Ground with Ray Suarez" drops on October 31st.

Bound By Oil: Rethinking Biden's Middle East Strategy

Ray Suarez sits down with two Middle East policy experts to debate the best path forward for US engagement in the region. Quincy Institute Executive Vice President Trita Parsi and Brookings Institution senior fellow...

Hate Speech and Extremism: What to Listen For Ahead of Midterm Elections

Ray Suarez sits down with Daniel Byman, a counterterrorism expert and author of Spreading Hate: The Global Rise of White Supremacist Terrorism, to discuss the roots of the global white power movement, how extremism...

Grace: Cody Keenan on Writing for President Obama – and That Charleston Speech

President Barack Obama delivered over 450 speeches during his tenure, but one of his most famous was entirely unscripted. Back in 2015, as the country mourned the victims of Charleston church shooting, the president...

Cuba Revisited: From Cold War to Normalization – and Back Again

In this week's episode, we explore the deep roots of Cuban internationalism…and its impact on everyday Cubans. We begin with historian William Kelly, who charts Cuba's little-known history of solidarity with...

I Was Held Hostage. America Can Do Better

This episode, Ray Speaks with The Washington Post reporter Jason Rezaian about his story, and why he thinks it's essential that the US government and media change the way they talk about American hostages abroad so we...

What Brittney Griner's Detention Can Teach Us About Putin's War

This episode, ESPN investigative reporter TJ Quinn and hostage expert Dani Gilbert join Ray to discuss how state-endorsed hostage-taking creates leverage for autocrats—like Putin—upends American diplomatic norms, and...

Ambassador Michael McFaul on Putin's "Failed" War

Former US Ambassador to Russia Michael McFaul and Ray Suarez explore what we can expect from the war in Ukraine in the coming weeks and – perhaps – months, and how it's impacting Russia's international standing.

Cryptomania: How Cryptocurrency Can Save—or Destabilize—a Country

Ray Suarez takes a deep dive into the global world of cryptocurrency — from Kazakhstan to Ukraine.

Boris Out, Liz In: The Global Impact of the British Election

Ronan McCrea joins Ray Suarez to break down the global implications of new British leadership. Then, we travel to Northern Ireland, where the fate of a Brexit protocol – and the precarious peace between north and south...

Feeding 7.9 Billion…Without Wrecking the Planet

On this week's episode, we hear from two experts with competing visions of how we can sustainably feed a growing planet. Ray Suarez is joined by Raj Patel and Robert Paarlberg on a journey through the inequities and...

How One South African Woman's Fight for Marital Rights Changed Her Country

In collaboration with Foreign Policy, we bring you the lesser-known role of women's rights in the fight to end apartheid, and how the current struggle to reform sexist property laws in South African courts is keeping...

South Africa Since Apartheid: Has Democracy Worked?

In this episode, a co-production with Foreign Policy, we take a look at South Africa's path to political and economic equality.  Political scientist Evan Lieberman joins Voice of America's "Straight Africa...

The Price Haitians Have Paid for Freedom

Ray Suarez sits down with Haitian author Évelyne Trouillot and historian Leslie Alexander for a conversation about Haiti's turbulent history since its revolution.

Zero Sum, Zero Change: What Racism Costs Everyone

Policy expert Heather McGhee joins Ray Suarez to discuss her new book and podcast, "The Sum of Us", and the burgeoning cross-racial alliances pushing for real change.

"The Code of the Warrior" and Ethics on the Modern Battlefield

Shannon French, Inamori Professor in Ethics at Case Western Reserve University, joins Ray Suarez to chart the ever-evolving field of military ethics and its central role in keeping both civilians and soldiers safe.

A Blurred Civilian/Soldier Line? Accountability in the Age of Drones

Ray Suarez speaks with journalist Azmat Khan about accountability in the age of remote warfare, and the importance of civilian oversight in US military action.

Forging Identity After War: Activism and Storytelling

Aminatta Forna joins Ray to chat about legacy, trauma, and forging identity – and joy – in the aftermath of violence, in her recent essay collection, The Window Seat: Notes from a Life in Motion.

Are Women the Future of Sierra Leone?

Chernor Bah shares how his early experiences with war and humanitarian aid inspired to create Purposeful, an Africa-rooted organization that challenges the long held assumption that men – and white donors – should...

Dr. Atul Gawande's Prescription for COVID and Aging: What Can We Learn?

In this episode, Dr. Gawande and Ray Suarez discuss taking public health work to the global stage, and the immense challenges that lie ahead.

The New Story of Old Age: What Japan and the Pandemic Can Teach Us About Living Longer

MIT AgeLab's Joseph F. Coughlin talks about how leaps in technology have led to longer life spans — and why it may be the key to making the most out of borrowed time. Then, NYT's Motoko Rich shares how this demographic...

Forty Years After Vincent Chin, Asian Americans Continue to Fight Hate

Ray Suarez speaks with filmmaker Renee Tajima-Peña and activist Helen Zia about the ongoing fight to recognize diverse Asian-American histories, challenging stereotypes and what justice means today.

The Story of Vincent Chin, and How It Became A Rallying Cry for Asian Americans

In this episode, we revisit an interview with filmmaker Renee Tajima-Peña about her documentary, "Who Killed Vincent Chin?" to learn about the movement sparked by Chin's story.

Bill Browder on Exposing Russia's Web of Corruption, and Surviving Putin's Wrath

In a gripping interview with Ray Suarez, Browder recounts a hunt for missing money that led him to discover a corruption and conspiracy plot involving Putin's inner circle.

Scaling Up: Local Solutions to End Global Homelessness

Ray Suarez digs deeper into two homegrown, people-powered housing initiatives for urban and rural communities across South Asia. Then, Lydia Stazen shares how small-scale local programs can be scaled internationally to...

"Nixing" the Gold Standard: The Secret Meeting Behind Today's Inflation

In the second episode of our two-part series on inflation, we return to a conversation between NPR's Chief Economics Correspondent Scott Horsley and Jeffrey Garten, an influential economist who served in multiple...

Price Shock: The World Economy, Upside Down

In this episode, we revisit a conversation with filmmaker Rupert Russell about his book and film, "Price Wars: How the Commodities Markets Made Our Chaotic World.

How To Save Diverse Democracies

Yascha Mounk joins Ray Suarez to discuss his new book, "The Great Experiment: Why Diverse Democracies Fall Apart And How They Can Endure," which challenges the assumptions of a modern pluralist society and imagines...

"Becoming American" with Wajahat Ali, Pt. 2

In the second part of his interview with Ray Suarez, author Wajahat Ali discusses how the war on terror shaped attitudes towards Muslims in the United States, and how the Muslim-American political identity evolved in its...

"Becoming American" with Wajahat Ali, Part 1

"The tragic history of America is that the rest of us have fought for a country and love a country when it doesn't love us back," Wajahat told Ray Suarez in a recent interview about his new memoir, Go Back to...

The Age of Disasters and the Future of Crisis Management

Ray Suarez speaks with "The Devil Never Sleeps" author, Juliette Kayyem, about what global communities can do to prepare before disaster strikes close to home.

NATO's Past, Present & Future

Ray Suarez sits down with Ivo Daalder, former US Ambassador to NATO, to discuss the alliance's evolution, the Russian "wake-up call" that placed it back in the news, and the future–and feasibility–of...

A Shadow Immigration System to Keep Migrants Out of Europe

KQED senior editor Rachael Myrow speaks with Sally Hayden, an Irish investigative journalist, about a shadowy immigration system funded by the E.U. which captures and imprisons North African migrants before they ever...